On 21st September, 2019 International Day of Peace was observed by Shanti MitraSomajKolyanSongstha arranging peace walk, discussion on the theme, drawing session with the children, poem recitation from the young poets and songs session. The theme of the International Day of Peace was "Climate Action for Peace".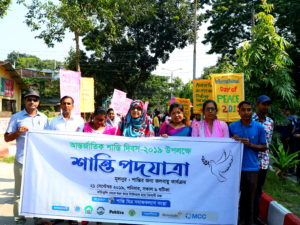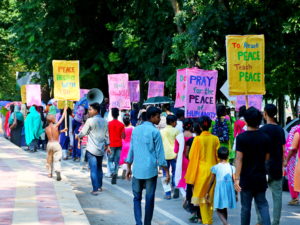 The program was inaugurated by Subarna Poli Drong, executive director of Shanti Mitra with the presence of the invited honourable guests and the partner's officials.
The day was started with a Peace walk from Shanti Mitra office throughKanchijhulimor, Town Hall Mor, Circuit House Road to Boishakhi Moncho-1. A brief discussion session was held by the honorable guests, SyedaSelina Azad, NasrinAkhter, Brother Eric and SubarnaPoliDrong on the theme of the day 'Climate Action for Peace'.
Then a drawing session was organized with around fifty children from Station Club Mymensingh, Chorbinpara Primary School, Bolashpur Primary School, Korean House, Gudhuli Nari Sangathon, IED (Institution for environment and development) on the topic of 'Livable Earth for Every Creatures'. All the children had been awarded and offered lunch for being participating in the drawing session.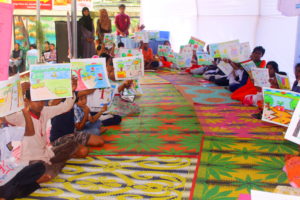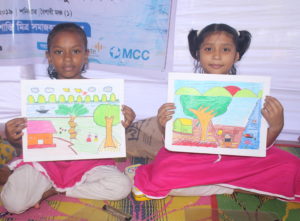 After lunch break A workshop on 'Awareness build up on Climate Change Issues' had been conducted by the Peace Worker of Shanti Mitra. The final event of the day was 'Poem Recitation and Song performance session' participated by young poets of Mymensingh and the Artistic Group of Shanti Mitra. The poems had been recited by the poets in accordance with the environmental, climate change and peace building issues. A number of songs from the artistic team had enchanted the audience along with the poem recitation from the young poets. Furthermore theday long audience and visitor's event of writings cards and commenting on 'The loving objects of nature and what should be my responsibility to protect them'had been offered a direct public engagement in the event. With a full heart completion of all the events, the executive director had closed the ceremony with the greetings and thanking to all.